---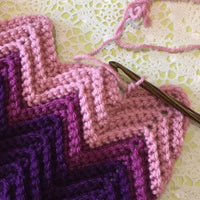 Next Steps in Crochet Workshop at The Yarn Barn (Milnrow)
Moho Crafts
Regular price £15.00
Tax included.
Shipping
calculated at checkout.
Here at Moho HQ we LOVE crochet! If something stays still long enough, it will inevitably be decorated with some form of crocheted item! We've been teaching crochet workshops for over 10 years so we know how to help you on your crochet adventures.
The Next Steps workshops are for anyone who has been to one of our Beginner's Crochet sessions or who can already do the basics (chain, double and treble). The goal is to expand your existing skills and help you to fulfil your crochet ambitions! We will guide you through whatever skills, patterns, stitches or designs you desire! You can bring along an unfinished project or pattern you need a bit of help with or delve into the Moho pattern file (which includes 2 brand new patterns every month) and see what sparks your inspiration!! Pretty much anything goes! 
YouTube and books are all well and good but nothing is quite as effective as having someone sat next to you, showing you the ropes! 
Included in the price you get a 2-hour workshop with no more than 12 participants, expert tuition (if I do say so myself!), unlimited access to the Moho original patterns  AND refreshments. You can't say fairer than that!
If you have any questions, just give us a shout and we will sort you right out. 
The Yarn Barn is an independent yarn store located on the top floor of Albert Mill, Newhey Road in Milnrow just 2 minutes from junction 21 of the M62. Pop OL16 4EG into your sat nav and head on over!